My dear friend Jimmy Rizzi passed away the day after Christmas in his sleep. He was a great man. The world is less fun with his passing. The legendary Rizzi was only 61 but he accomplished way more than most ever do. Rizzi had a bit mileage on him, he lived life at various speeds, sometimes fast and sometimes reckless, but always with style and grace. One could not find a nicer guy.
Rizzi was a very famous and successful artist, especially in Germany and Japan, although he paid very little attention to the art world. Rizzi didn't make art for the art world, he made it for his millions of fans to whom he was a sort of pop star artist. And Jimmy lived like a pop star. He loved the ladies and they loved him. He loved a party and he was often the life of it and the host of it. He was a delightful person. If I had to pick a lifetime foursome, Jimmy would be in it, if he gave me three strokes a side.


Jimmy Rizzi was a natural athlete, although he never let it interfere with his lifestyle. He played the usual sports as a young man, but when he grew up he graduated to adult sports. We were both bowling enthusiasts and we bought our bowling balls together. Mine is called "Big Daddy" and Jimmy's was called "The Rizzilator." Rizzi was an especially good golfer, and although he was pretty casual about it he had a low, maybe one figure handicap. He had to give me a few strokes and still took a little money from me, although I have to admit that the most money I ever won on a golf course was when I was playing with Jimmy and a friend of his who is a German comedian TV star and I sank a putt of about 40 feet on the 18th hole. We all fell on to the green laughing after that.


One day I was on the beach in Bridgehampton with Jimmy and our friend Mark Weinberg. We were taking the sun. Suddenly there was a commotion. An athletic young man had swum far out into the waves to retrieve a large beach ball that had blown away, and he was in distress. Women were screaming and crying. Mark said, "Somebody's going to have to rescue that guy." After a pause he said, "Jimmy, go rescue that guy." Rizzi, who was pushing fifty and looked a bit worn, grumbled, put out his cigarette, in the sand, borrowed a surf board and paddled out about a half mile while the whole beach looked on. He grabbed the kid, who was a muscular fellow about 19, and dragged him back to shore. Maybe a hundred people cheered and applauded. Women kissed him. He flopped back down on the blanket and said, wearily, "Give me a cigarette." The kid is alive today because of Jimmy.


Rizzi was a smoker. He liked pot and smoked it constantly for years. I guess he was about as close as you can get to being a pot addict because at one point he actually set out on a personal appearance tour of Japan with an ounce or two of weed in his golf bag. Naturally it was discovered at the airport and they threw Rizzi into the slammer. They told him he could expect to serve two years. Rizzi was a quick study and he figured out the Japanese within a week. He became catatonic and started soiling himself, pissing and shitting in his cell with enthusiasm. Finally they could stand him no longer and they deported him.


Eventually he kicked pot but he never managed to kick the coffin nails, even after he had a heart attack a year or so ago. Rizzi was able to kick other things. We both belonged to the Noyac Golf Club in Sag Harbor. One day Jimmy came by to pick me up in his huge custom silver blue Cadillac Fleetwood. He had dyed his hair silver blue to match the car. I said Jimmy do you realize you're probably the only country club memeber in the United States with electric blue hair. Without missing a beat he said, "Yeah, and I'm probably the only person ever to play golf with Arnold Palmer on heroin." I don't think Arnold Palmer was on heroin.


Jimmy's real addiction, besides cigarettes, were girls and art. He made art all the time. He made it while he was sitting around watching TV. He made it while he was eating. He made it while he was having parties. And as for the girls, he had a real fondness for them, in addition to the usual lust. His loft was sort of a home for wayward girls. They didn't necessarily have to be sleeping with him to join the club. It was almost a Hef thing with a little Mother Theresa thrown in. Of course many, if not most of them did share his bed, but it wasn't a requirement. Sometimes he was happy to just watch one girl enjoy another's company. But he was never a letch. He was good friends with his ex-wife.


Jimmy was a success as an artist because people loved his work. They didn't have to read a review to get it. They didn't have to get it. They would look at it and smile. Some people might have called him a "primitive" or an "outsider" although usually the latter means that you're not painting with a full deck. Jimmy was sharp as a box of staples. But his work had it's own universe. He painted, drew and made 3D work that was cut out mand assembled by his assistants . He painted Volkswagens, airlines, and Japanese trains. He designed postage stamps, Metro Cards, Zippo lighters, china and toys. He was an official artist of the Olympics, the soccer World Cup and the Montreaux Jazz Festival. He was famous for his Tom Tom Club album cover. There was a Rizzi in Jerry Seinfeld's apartment on Seinfeld. There's an elementary school named after him in Germany.

Jimmy was a true hipster. The last time I saw him was when he came to a book signing I had in the summer. He looked like a movie star, sort of like Dean Martin in Sammy Davis Jr. clothes. He always looked cool, casually sharp, fly even.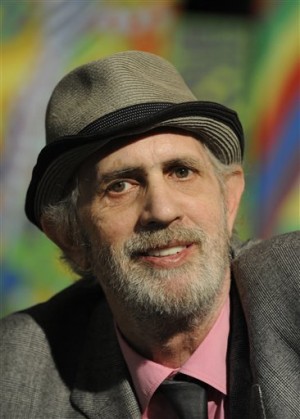 Jimmy never had kids, but he loved them and he was very much like one. He was a total enthusiast who lived to play and have fun. He never complained about anything except maybe his ex-dealer and the New York Jets. But Rizzi, like any real Jets fan, was a fatalist. I don't think that even given the choice he would have done anything any differently. Everybody loved the guy.
Richard Prince who played golf with us e-mailed me "Fuck. I'm bummed. I loved that guy!" I did too. I did two books with him, mainly to have fun. I recommend them, because they explain the guy more than I can here. He was one of a kind. I miss him a lot and it's only been two weeks. Hearts are broken, and foursomes too.